Flexi-Mask 24k Gold Jelly Mask
Jelly Mask 24k Gold
24K Gold (Gold) Effectively moisturises, shrink pores and brightens skin. 
We have got something new for you which our Clients have fallen in love with. Proving instantly noticeable changes through the use of active ingredients and plant botanicals. 
We are thrilled to present to you the Flexi Gel Face Mask. Providing fun to your routine and value to your treatments. The jelly face mask is proven to be highly marketable and your socials will love it. 
Available in 3 distinct options Hyaluronic Acid (Blue) Effectively hydrate, moisturise and brightens skin, Rose Petal (Pink) brightens and effective on delicate skin.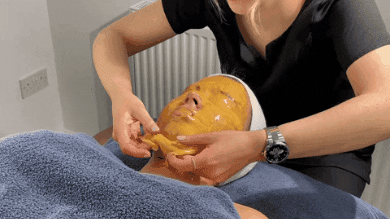 How to use
These masks come in powder form. You mix the 40ml powder with approx 40ml of water and stir well with a spatula until it becomes a thick paste.
Apply on your clients face. Start with the eyes working sideways from the nose out towards the ears. Now the cheeks, follow this with the chin area. Finally the forehead and bridge of the nose. Until the whole face is covered in a thick layer. Leave on for 15 minutes and during this time a hand and arm massage can be carried out with your favourite body lotion. After the 15  minutes and the mask is fully set remove in one simple action from the chin upwards to the brow, 
This mask creates an occlusive layer, locking in moisture and pushing all beneficial nutrients deeply into the skin. The most treatment your clients with be left with clearer pores and a glowing soft face. 
Mask make approx 13 treatments.
Ingredients 
Diatomaceous earth, Corn starch,  Sodium alginate, Calcium Sulfate, Gold,  Pectin, Sodium Hyaluronate.